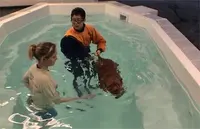 Here at Animal Wellness & Rehabilitation Center we provide Holistic & Naturopathic animal care, Physical Therapy, Rehab, as well as Traditional animal care.
Holistic veterinary medicine is a comprehensive approach to animal care involving alternative, conventional diagnostic, and therapeutic modalities.
We are a unique facility in the whole state of Washington that offers an Underwater treadmill, a Land Treadmill, and Warm Water Pool.
---
Traditional Veterinary Care
Surgery: We perform all surgeries such as spays, neuters, soft tissue repair, abscess and growth removals and orthopedic surgeries.
Dentistry: We have Digital Dental x-rays. We do routine dental care and teeth extractions.
Routine Wellness Exams
Laboratory Services to analyze all routine specimens
Geriatric and Senior Care
Radiology: We have digital x-ray systems
Grooming
Boarding
Hospitalizations
Visiting Board Certified Cardiologist and Radiologist for Ultrasounds and Surgery
Holistic Veterinary Care
Acupuncture
Ayurveda
Botanical Medicine/Herbs
Chiropractic
Homeopathy
Massage Therapy
Neutracueticals
Physical Therapy
Cold LaserTherapy
Warm Water Swimming Pool
Ferno AquaPaws Underwater Treadmill
Land Treadmill
Cancer Consult
---
Holistic Veterinary Medicine
Holistic Veterinary Medicine compliments Traditional approaches to Veterinary Care. We use Nutrition as a therapeutic agent, as well as Botanical Medicine which uses plants and plant derivatives as the therapeutic agents.
We use Veterinary Chiropractic adjustments which is the single most effective treatment for Neuro-Musculoskeletal disorders. As well, we use Ayurveda which is used as a preventative medicine that takes into account your animal's specific type of constitution (doshas) to find the source of the animal's imbalance. Our goal is to create a balance between the three doshas, (Vata, Pita, and Kapha) by using Herbal Supplements, diet, exercise, and massage therapy.
We apply the ancient Chinese method of treatment, Acupuncture, to re-balance the energy lines in the body when they become blocked or deficient.
Our Facility is totally designed with Animal Rehab in mind.