We value our clients' experience at Animal Wellness and Rehab Center. If your pet or animal is currently a patient, please feel free to complete the following Client Experience Questionnaire. The Questionnaire is in Adobe Acrobat format, and requires the free Acrobat Reader to view.
Download & Print Questionnaire
Dr. Tejinder Sodhi
Thank you so much for your dedication, compassion, and wonderful care you provided for Kip. Because of you, Kip was able to enjoy additional quality years with us, and for that we are forever grateful.
We miss Kip, but are comforted in knowing he had a fantastic life surrounded by love and care, not only from us, but also from all of you.
Marc and Sandy Warner
Emily and Oliver
---
We don't know how to thank you enough for saving Barkley when we brought him in with his "mystery" overdose last month. You were all so very kind and compassionate. I can't tell you how calming it was to me! A HUGE thank you to Karissa, who sat with Barkley and did not leave him once during the many hours it took him to come out of his stupor.
We will always be forever grateful to you all and promise to tell all our friends to bring their animals to you!
Thank you!!
The McCabes (Malia, Ken, Lexie, Bella and Barkley)
---
Buddy was put down on July 11th. His arthritis and hip issues reached the point that he no longer had any quality of life. We want to express how grateful we are to your clinic for providing the start of his rehab therapy. You all helped keep him going far longer than ever expected! Although our schedule changes at work caused us to seek treatment for the last year of his life at another clinic, we are grateful for all your care and professionalism.
Sincerely,
Jay Ehlert and Jeff Fowler
---
I can't thank you enough for your loving care of Moo through so many trials, You've made her life better in so many ways and mine too. It has always been a pleasure – even on our worst days – to come to this office and see all the kind faces who welcomed her, making special visits to the exam room to greet her. I know she's never been just a number to you but a real spirit.
Love –
Tuesday and Moo
---
I have been taking my dog to Dr. Sodhi for over ten years. He is a very caring veterinarian and not only does he minister to his patients but he is very compassionate and understanding with anxious owners. He always gives me reasonable advice and I very much appreciate his holistic viewpoint. I would highly recommend him and his clinic.
Regards,
Sheryn Hara
---
My animal companions have always received extraordinary care at the Animal Wellness Centers in Bellevue and Lynnwood. Dr. Sodhi is trained in many modalities, such as rehabilitation therapies, Ayurveda, chiropractic, acupuncture and more. This makes him very unique and sets him apart from other holistic veterinarians. He is also very intuitive.
My 3 year old Border Collie is very challenging to bathe. He can be somewhat nippy. Recently I took him to the Animal Wellness Center in Bellevue to be bathed, and I left a muzzle with them. The staff knew exactly how to handle him in a positive way, and they never had to use his muzzle, to my surprise! I trust them completely with my precious furry baby!
Pam Nixon
Anacortes
---
Dear Dr. Sodhi,
I cannot thank you enough for all you and your staff did for Sadie and I. I stopped giving her kibble and now give her a can and one half of wet food in the morning and at night. I found and cut off the source of the paper towels she was eating. I have a new dog. She has stopped licking her butt and she is able to have bowel movements without straining and taking so long. She also has much more energy and is in a much better mood. She is even playing fetch which she has not for a very long time.
I also want to thank you so very much for your help financially. I was truly worried about how much it would have impact me.
You are a great and compassionate man. I don't know how I will repay you but I will find a way, it might take awhile. If there is anything I can ever do including volunteer work for you please let me know.
Tom Foley and Sadie
---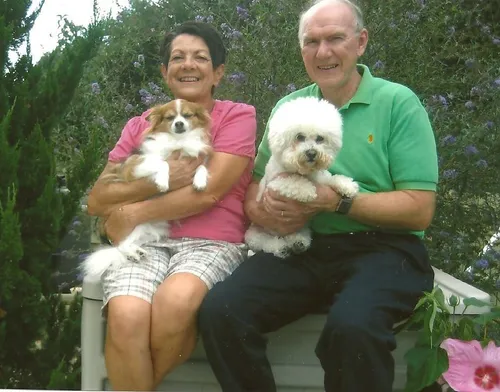 ---